People who think sharks are "primitive" fish may be commended as being reasonably up-to-date with the evolutionary literature, but they need to take note of a new fossil fish that has thrown all the ideas into the melting-pot. Only a year ago, as an apparently coherent story was beginning to emerge, a specialist in vertebrate biology explained that the common ancestor of all jawed vertebrates on Earth resembled a shark.
"The common ancestors of all jawed vertebrates today organized their heads in a way that resembled sharks. Given what we now know about the interrelatedness of early fishes, these results tell us that while sharks retained these features, bony fishes moved away from such conditions." (Source here)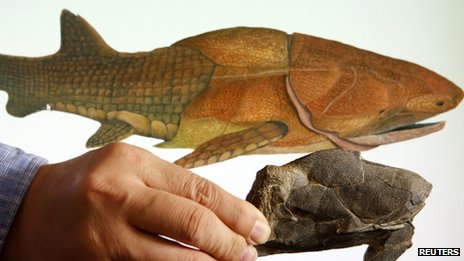 Fossil plus restoration of Entelognathus (source here)
There are four groups of early fish: the extinct Acanthodians and Placoderms, and the extant Chondrichthyes (sharks, rays and ratfish) and Osteichthyes (bony fish). It is the interrelationships of these groups that is much discussed by evolutionary scientists, and work in recent years has tended to see the Acanthodians as either a very early relative of sharks, or close to the common ancestry of all modern jawed vertebrates (for more on this, go here). The placoderm fishes had bony skulls and simple beak-like jaws built out of bone plates. This seemed to position them some way from the other groups, and it was widely thought that placoderm features bore little or no relation to the Osteichthyes.
"[Palaeontologists] thought that the last common ancestor of living jawed vertebrates had no distinct jawbones - that it was similar to a shark, with a skeleton made mostly of cartilage and at most a covering of little bony plates. The theory went that the bony fishes evolved later, independently developing large facial bones and inventing the 'modern' jaw. Such fishes went on to dominate the seas and ultimately gave rise to land vertebrates."
However, a major placoderm find from the Upper Silurian in China has stimulated a remarkably different interpretation. The fish, which has been given the name Entelognathus, appears initially to be a typical placoderm. The surprise comes when looking closely at the jawbones.
"When examined from the side, however, Entelognathus reveals itself as anything but expected. Absent are gnathal plates - simple jawbones characteristic of placoderms. Instead, the mouth is rimmed with bones that integrate with the cheek plates, the lower jaw is composed of an elongated 'box' of bony plates and cartilage, and the throat and gills are clad in a series of articulating plates. Both in the overall pattern and the specific detail of these plates, the fossil showcases traits that were once considered diagnostic of bony fishes, and entirely unknown in placoderms. Entelognathus, it seems, is a placoderm with a bony-fish-like grin." (Source here)
The jawbones are of great importance because they are much more complex than the single bone found in other placoderms. It is a case of abrupt appearance of complexity. Furthermore, this complexity is found in the Osteichthyes, but not in the Acanthodians or Chondrichthyes. There are two alternative evolutionary explanations: the first is that Entelognathus is ancestral only to Osteichthyes, and the second is convergence. It is the remarkable (jaw dropping) nature of the similarity of structure that has convinced most specialists that this find requires a re-writing of the evolutionary tree. This is how John Long puts it in a blog post, which headlines the thought that this new fossil is a missing link:
"But its lower jaw is composed of a complex set of bones, unlike other placoderms whose jaw was made of a single bone. This pattern of bones in Entelognathus precisely matches those in the lower jaw of early fossil bony fish (osteichthyans). Entelognathus also possessed special bones underneath its lower jaws called gulars, which are today only found in bony fishes. This fish shows the first appearance of the dentary bone which is found in all bony fishes, amphibians, reptiles and mammals. It is the very same bone in our lower jaw. The new discovery from China gives us powerful new insights about the building of the human body plan, which began seriously with these ancient fossil fishes." (Source here)
Whether there is a line of descent from placoderms to osteichthyans, or whether the jaw structures originated independently, there are important implications for phylogenies. Instead of sharks being "primitive", they should be regarded as "derived". The implication is that a classic scenario in vertebrate evolution is inverted. Friedman and Brazeau write in their commentary:
"[T]wo things are clear from the various possibilities proposed in their evolutionary tree. First, Entelognathus always branches outside the radiation of living jawed vertebrates, meaning that key components of the osteichthyan face are no longer unique innovations of that group. Second, acanthodians - that pivotal assortment of extinct shark-like fishes - are shifted, en masse, to the branch containing the cartilaginous fishes. This triggers a cascade of implications. If all acanthodians are early cartilaginous fishes, then their shark-like features are not generalities of jawed vertebrates, but specializations of the cartilaginous-fish branch. The most recent common ancestor of jawed vertebrates was thus probably clad in bony armour of the sort common to both placoderms and bony fishes."
A particularly interesting aspect of this "piscine mash-up" are comments on "how did we get it so wrong?" The indications are that cultural factors have been very prominent. The culture is that of progressivist thinking linked to the "Great Chain of Being" approach to looking at the world. A previous blog has explored this theme and can be consulted here. This new fossil is not just raising immensely important issues for cladistic analysis, but also is providing a case study of the human face of science - we find the continuing influence of Aristotelianism and other cultural agendas, despite assurances of science being objective and evidence-based. Friedman and Brazeau again:
"The status of sharks as surrogate ancestors seems well established, but this is an illusion of dogmatic repetition combined with spurious portrayals of present-day cartilaginous fishes as unchanged "living fossils". The popular model of a shark-like ancestor is, in the end, more a hangover of the "great chain of being" of ancient philosophy and pre-Darwinian archetypes than a product of modern comparative biology and phylogenetic "tree thinking". Added to this conceptual inertia is a historically compartmentalized approach to studying early vertebrate groups that made it too easy to dismiss shared similarities - the head and shoulder exoskeleton of placoderms and bony fishes, for example - as independent innovations without adequate evidence."
What we are seeing in the Palaeozoic fish fossils is a mosaic of character traits that are proving very difficult to portray in an evolutionary phylogeny. This is a good reason for at least considering the value of design-thinking and the potential for understanding some of this variability using the concept of phenotypic plasticity.
A Silurian placoderm with osteichthyan-like marginal jaw bones
Min Zhu, Xiaobo Yu, Per Erik Ahlberg, Brian Choo, Jing Lu, Tuo Qiao, Qingming Qu, Wenjin Zhao, Liantao Jia, Henning Blom & You'an Zhu
Nature, 502, 188-193 (10 October 2013) | doi:10.1038/nature12617
The gnathostome (jawed vertebrate) crown group comprises two extant clades with contrasting character complements. Notably, Chondrichthyes (cartilaginous fish) lack the large dermal bones that characterize Osteichthyes (bony fish and tetrapods). The polarities of these differences, and the morphology of the last common ancestor of crown gnathostomes, are the subject of continuing debate. Here we describe a three-dimensionally preserved 419-million-year-old placoderm fish from the Silurian of China that represents the first stem gnathostome with dermal marginal jaw bones (premaxilla, maxilla and dentary), features previously restricted to Osteichthyes. A phylogenetic analysis places the new form near the top of the gnathostome stem group but does not fully resolve its relationships to other placoderms. The analysis also assigns all acanthodians to the chondrichthyan stem group. These results suggest that the last common ancestor of Chondrichthyes and Osteichthyes had a macromeric dermal skeleton, and provide a new framework for studying crown gnathostome divergence.
A jaw-dropping fossil fish
Matt Friedman & Martin D. Brazeau
Nature, 502, 175-177 (10 October 2013) | doi:10.1038/nature12690
The ancestors of modern jawed vertebrates are commonly portrayed as fishes with a shark-like appearance. But a stunning fossil discovery from China puts a new face on the original jawed vertebrate.