According to C.R.C. Paul, "the search for gradual change in the fossil record is a cautionary tale". The instigator of the search was, of course, Charles Darwin, whose theory predicted that a pattern of small incremental changes would be found in the fossil record as well as in contemporary life forms. It is well known that Darwin did not find what he was looking for. On the Origin of Species included a whole chapter (X) to explain how the theory could be reconciled with the fossil record, using the argument of its "extreme imperfection". This argument held sway for over 100 years. Palaeontologists adopted Darwin's explanation, presenting the few cases of gradual change that they did manage to identify as a great achievement.

[Paul refers to the] "belief that the fossil record should contain abundant evidence of gradual evolutionary (i.e. morphological) change, which we all accepted (myself included) until Eldredge and Gould (1972) proposed the alternative punctuated equilibrium model."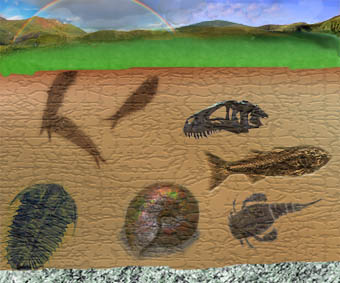 The fossil record provides an important test for Darwinian gradualism - but what weight can we give to the evidence we find? (Source here)
During this 100 year period, some examples of "genuine evolutionary trends" were reported but, Paul points out, "there are far too few of them". Even the classic trend examples "do not bear close scrutiny". The cases of Micraster, Zaphrentis and Gryphaea are not as robust as once was thought.

"[F]or over 100 years palaeontologists sought examples of evolutionary trends in the fossil record and yet they remain stubbornly rare. In contrast, no one reported examples of stasis during this interval. We did not even have a name for lack of morphological change - it was regarded as lack of information."
So strong was the focus on gradual change that few found morphological stasis interesting. It was not even deemed worthy of reporting. Published literature became biased in favour of gradual transformation. A major characteristic of the fossil record - stasis - was neglected until Eldredge and Gould launched Punctuated Equilibrium in 1972.

"In over a century the very rare examples that were found were accepted as evidence of a general pattern in the fossil record, whereas the more abundant patterns, unbiased random walks and stasis, were ignored. The analyses of Paul (1999) and Hunt (2006, 2007) are very different, yet both agree that trends are rare in the fossil record. With the benefit of hindsight it seems amazing that it took so long for us to recognize that the vast majority of fossil species do not change significantly throughout their stratigraphical ranges."
Paul draws attention to the analytical approach of Hunt, whose methods are described as "robust".

"Hunt (2007) analysed the frequency of the three patterns in a large sample (251 characters in 51 taxa), covering benthonic and planktonic microfossils and macrofossils (mammals, fish and molluscs), as well as size, shape and other characters. He found that in only 13 characters (5.2%) was directional change (trends) best supported, whereas unbiased random walks and stasis were best supported in 123 (49%) and 115 (45.8%) cases. Hunt commented that since there was an historical bias in favour of trends, 5% was probably an overestimate."
The remainder of Paul's paper is concerned with the probability of fossilisation. He concludes that most animals with skeletons are likely to have become fossilised. Impoverishment of the record is linked to active erosion of fossiliferous strata.
Darwin regarded the fossil evidence as potentially providing a valid test of his theory. He predicted gradual transformation. Since he did not observe it, he invoked "extreme imperfection" to preserve the theory. This explanation is no longer credible. The fossil record must now stand as evidence that refutes Darwinian gradualism. Those examples of gradual morphological change represent, at best, 5% of observed trends, but it is possible they are simply extreme cases of random walk trajectories. In a eureka moment of clear thinking, Stephen Jay Gould declared that Neodarwinism "as a general proposition, is effectively dead, despite its persistence as textbook orthodoxy". Those who represent analyses like this as religiously motivated and out of bounds for consideration in school science lessons are doing a great disservice to education and to the students they claim to be defending.
The Fidelity of The Fossil Record: The Improbability of Preservation
C. R. C. Paul
Palaeontology, May 2009, 52(3), 485-489 | doi 10.1111/j.1475-4983.2009.00872.x
Abstract: The fidelity of the fossil record reflects how accurately it preserves the history of life. Since Darwin's time any mismatch between our theories and the fossil record has been attributed to the imperfections of the record. For over a century scarcity of gradual evolutionary trends was explained in this way until the punctuated equilibrium model was proposed. A null hypothesis that all morphological patterns in the fossil record are unbiased random walks can be rejected because it predicts far more apparent trends than exist. Current best estimates suggest that trends occur in at most 5% of characters. When an organism dies either it becomes fossilized or it doesn't. To be confident a species has not been preserved the probability against preservation must be significantly larger than the total number of individuals of that species that ever existed. For skeletized species preservation was the norm not the exception. Nevertheless, fossils must then avoid subsequent destruction and be discovered to be useful.
See also:
Gould, S.J. The Structure of Evolutionary Theory, Harvard University Press, 2002, page 1004 (for reflective comments on the effective death of Neodarwinism quote).
Hunt, G., 2007. The relative importance of directional change, random walks, and stasis in the evolution of fossil lineages. Proceedings of the National Academy of Sciences of the United States of America, 104(47), (November 20), 18404-18408 | doi: 10.1073/pnas.0704088104