In 2002, a team of Argentinian geologists published a paper on what they considered to be the oldest bird tracks. The lead researcher was quoted as saying: "The first and most striking feature of these fossil footprints is the overall resemblance with modern bird footprints". In commenting on the finds, Martin Lockley, a respected palaeontologist, said: "what is commendable here is that the Argentineans have presented their material well and these footprints seem to be distinctly bird-like and different from any known dinosaurs walking around at the time".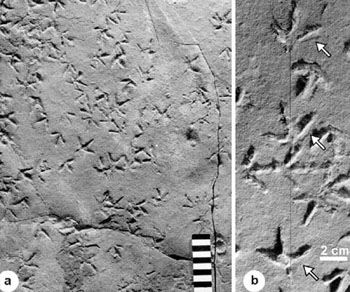 a) Footprints are numerous in this slab of the Santa Domingo Formation.
b) The arrows point to a track of footprints. Visible in each print of the track is the hallux, the digit that points backwards in birds. (Credit: Ricardo Melchor, Source here).
During the intervening years, the Argentinians have worked on their find and numerous related themes. For example, they have published "the first comprehensive ichnotaxonomic review of the Triassic tetrapod track record in Argentina, including previous accounts and new material recently discovered, and an analysis of its composition and stratigraphic distribution." They have analysed depositional environments and looked a a whole range of fossil traces. Most recently, they have used a modern-day locality to study trackways left by birds and compared them with previously-found fossil material. Their study is thorough and authoritative. Rather than review the details, we shall go straight to their conclusions:

"The presence of flight trace fossils (Volichnia), i.e. footprints with elongated hallux impressions that are interpreted as representing low angle landing, associated with probing marks and a similar morphology of Gruipeda dominguensis with tracks of modern shorebirds, strongly suggest an avian affinity for the producers of the fossil tracks."
The claim for bird tracks in these rocks is no longer tentative. After rigorous examination, the fossil evidence points clearly to birds feeding and moving about in a "low-gradient fluvio-lacustrine setting under semi-arid climate". The problem this poses is integrating this with other knowledge regarding fossil birds. These deposits are thought to predate Archaeopteryx by 55 Ma. They conflict dramatically with those who claim that birds evolved from theropod dinosaurs. Consequently, these traces are very controversial. The authors back off from confrontation by saying: "in consequence, the Santo Domingo track site would be younger than supposed".
However, the geological Period associated with these rocks may not be dismissed easily. There are three independent pointers to age and the lithology is also typical of rocks known as New Red Sandstone. The authors write:

"The track surface belongs to the Santo Domingo Formation, which is considered of Late Triassic-Early Jurassic age. This age is based on characteristic fossil wood remains, on a 40Ar/39Ar radiometric age from interbedded basalt flows, and palaeomagnetic studies. The formation reaches a minimum thickness of c. 1950 m and is in fault contact with Carboniferous igneous and sedimentary rocks. The Santo Domingo Formation is a red bed succession that displays, from base to top, a transition from alluvial fan, fluvial braided (with calcretes), ephemeral fluvial and shallow lakes, and eolian environments."
Whilst it is perfectly reasonable to revisit the question about assigned age, it is no less reasonable to revisit the supposed theropod-bird evolutionary transition. In particular, it is worth noting the research of BAND scholars (Birds Are Not Dinosaurs). One of these is John Ruben, who with colleagues (1997), compared the respiratory structures of modern birds, mammals, and crocodiles with those reconstructed from the fossils of early birds and theropod dinosaurs. There are big differences. Theropod dinosaurs appear to have crocodile-like diaphragms. Birds, however, lack a diaphragm and make use of pelvis and chest movements to breathe. The differences are so marked that, it is claimed, there are "fundamental problems" with the proposal that diaphragm-less birds evolved from dinosaurs with diaphragms. For more, go here.
Ruben has co-published another challenging study recently, related to avian respiration.

"It's been known for decades that the femur, or thigh bone in birds is largely fixed and makes birds into "knee runners," unlike virtually all other land animals, the [Oregon State University] experts say. What was just discovered, however, is that it's this fixed position of bird bones and musculature that keeps their air-sac lung from collapsing when the bird inhales. Warm-blooded birds need about 20 times more oxygen than cold-blooded reptiles, and have evolved a unique lung structure that allows for a high rate of gas exchange and high activity level. Their unusual thigh complex is what helps support the lung and prevent its collapse."
Like his analysis of the diaphragm in respiration, Ruben interprets the new findings in terms of a fundamental clash between the designs of birds and the design of dinosaurs. It is unreasonable to postulate an evolutionary transition.

"The implication, the researchers said, is that birds almost certainly did not descend from theropod dinosaurs, such as tyrannosaurus or allosaurus. The findings add to a growing body of evidence in the past two decades that challenge some of the most widely-held beliefs about animal evolution. "For one thing, birds are found earlier in the fossil record than the dinosaurs they are supposed to have descended from," Ruben said. "That's a pretty serious problem, and there are other inconsistencies with the bird-from-dinosaur theories.
"But one of the primary reasons many scientists kept pointing to birds as having descended from dinosaurs was similarities in their lungs," Ruben said. "However, theropod dinosaurs had a moving femur and therefore could not have had a lung that worked like that in birds. Their abdominal air sac, if they had one, would have collapsed. That undercuts a critical piece of supporting evidence for the dinosaur-bird link."
It will be a good day for science when these evidences get featured in educational materials and in media presentations. However, other factors affect this:

"Frankly, there's a lot of museum politics involved in this, a lot of careers committed to a particular point of view even if new scientific evidence raises questions," Ruben said. In some museum displays, he said, the birds-descended-from-dinosaurs evolutionary theory has been portrayed as a largely accepted fact, with an asterisk pointing out in small type that "some scientists disagree."
Application of neoichnological studies to behavioural and taphonomic interpretation of fossil bird-like tracks from lacustrine settings: The Late Triassic–Early Jurassic? Santo Domingo Formation, Argentina
Jorge F. Genise, Ricardo N. Melchor, Miguel Archangelsky, Luis O. Bala, Roberto Straneck and Silvina de Valais
Palaeogeography, Palaeoclimatology, Palaeoecology, 272(3-4), 15 February 2009, 143-161 | doi 10.1016/j.palaeo.2008.08.014
Abstract: The purpose of this study is to apply neoichnological observations to the behavioural and taphonomic interpretation of a Late Triassic-Early Jurassic track surface from the Santo Domingo Formation (Argentina) containing hundreds of bird-like tracks and trackways. [. . .] Field observations allowed to distinguish twenty one behaviours that produced distinct traces and four modern footprint types (1 to 4) related to specific substrate conditions. In particular, the preferential formation of bird tracks parallel to the waterline, also confirmed by studies on droppings and invertebrate fauna of the pond, and other associated sedimentary features (ripple marks, wrinkle marks, mud drape thickness) and trace fossils were important for recognition of the shoreline in the fossil example. [. . .]. Five of the behaviours recognised in the modern pond were inferred from the sixteen trackways distinguished on the fossil track surface, including walking, walking with a zig-zag path, short runs, probing, and landing with legs directed forward (possible trace of flight). The recognition of traces of flight (Volichnia), probing marks, and tracks showing morphology similar to modern shorebirds (G. dominguensis), strongly suggest an avian affinity for the producers of the fossil tracks and, in consequence, the Santo Domingo track site would be younger than supposed.
Cardio-pulmonary anatomy in theropod dinosaurs: Implications from extant archosaurs
Devon E. Quick, John A. Ruben
Journal of Morphology, Early View 20 May 2009 | doi 10.1002/jmor.10752
Abstract: Although crocodilian lung and cardiovascular organs are markedly less specialized than the avian heart and lung air-sac system, all living archosaurs possess four-chambered hearts and heterogeneously vascularized, faveolar lungs. In birds, normal lung function requires extensive, dorsally situated nonvascularized abdominal air-sacs ventilated by an expansive sternum and specially hinged costal ribs. The thin walled and voluminous abdominal air-sacs are supported laterally and caudally to prevent inward (paradoxical) collapse during generation of negative (inhalatory) pressure: the synsacrum, posteriorly directed, laterally open pubes and specialized femoral-thigh complex provide requisite support and largely prevent inhalatory collapse. In comparison, theropod dinosaurs probably lacked similarly enlarged abdominal air-sacs, and skeleto-muscular modifications consistent with their ventilation. In the absence of enlarged, functional abdominal air-sacs, theropods were unlikely to have possessed a specialized bird-like, air-sac lung. The likely absence of bird-like pulmonary function in theropods is inconsistent with suggestions of cardiovascular anatomy more sophisticated than that of modern crocodilians.
See also:
Discovery raises new doubts about dinosaur-bird links, EurekAlert, 9 June 2009.